B2C Website Design Case Study for a Scottsdale Plumber
From DIY & Not Found to "This is our most cost effective marketing!"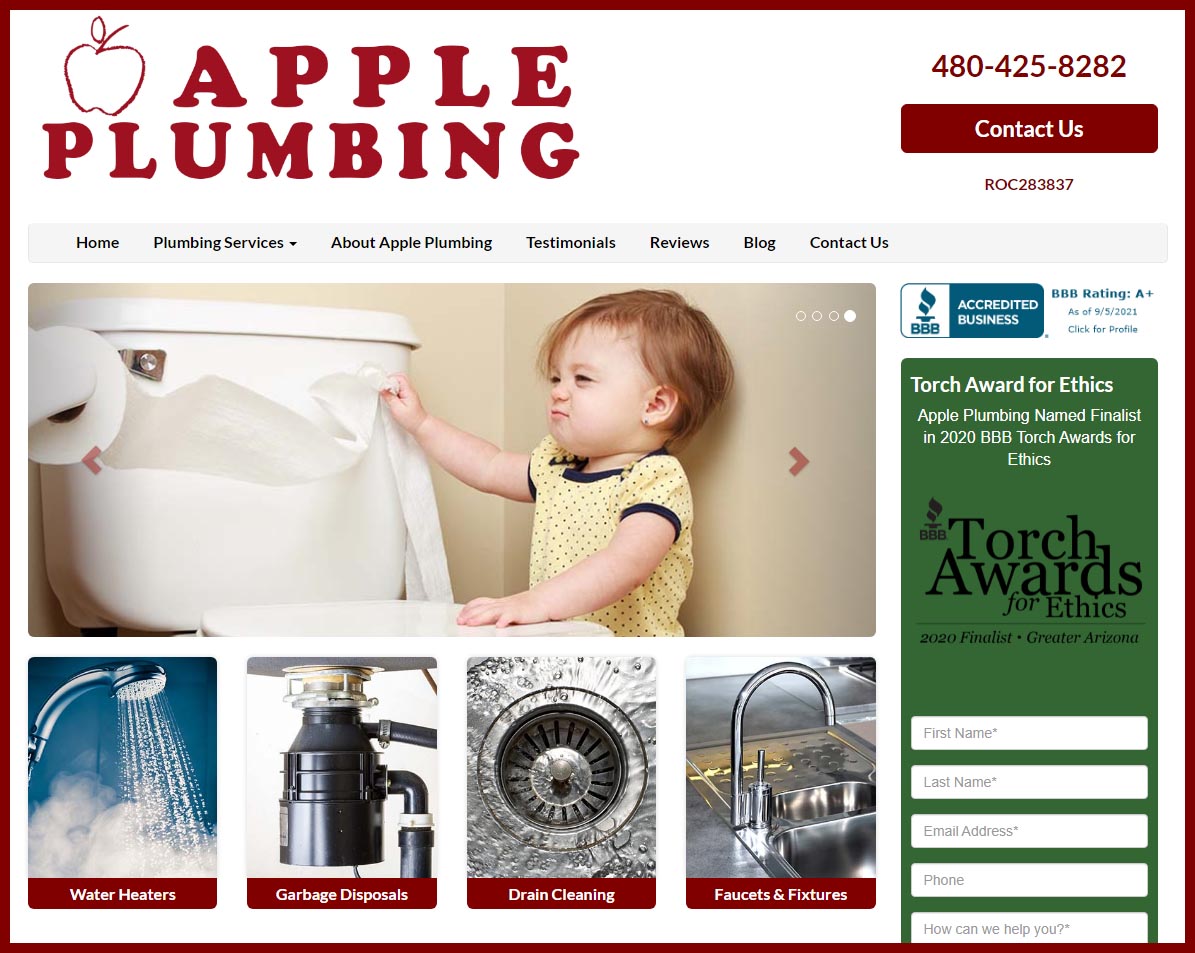 Apple Plumbing Services, a Scottsdale Plumber, wasn't our typical client. She actually had experience building websites for other companies before building her own. Yet, her plumbing services website wasn't getting the results she wanted, both in search rankings and business generated. She had designed the site herself at the largest DIY website building company and domain registrar who happens to be in Scottsdale (you probably know who we mean...) and Google just didn't like it.

We went back to the basics, conducted keyword research to find out exactly how her customers were searching for plumbing services, and then structured the site to be found. Since this was already a domain with lots of history the sites rankings improved within the first two weeks, and continued to climb as we continued a content marketing and a Monthly SEO Campaign geared to produce results.
Apple Plumbing Services owner Joni Vore had this to say about our services...

"BANG! is the BEST! Our company's website was old and out of date as well as not ranking well if at all. BANG! made the process of updating the site painless. The new site is beautiful and our SEO rankings were up to page one within days. Thank you BANG! for a job well done! P.S. After 6 months of the new website launch and our monthly SEO Campaign, our Internet generated business has increased by 440%!"


Not surprisingly, Four and a half years later Apple Plumbing Services is still a client.

B2B Website Design - A Case Study for a Commercial Insurance Agency
Website redesign resulted in immediate results for Insurance Agency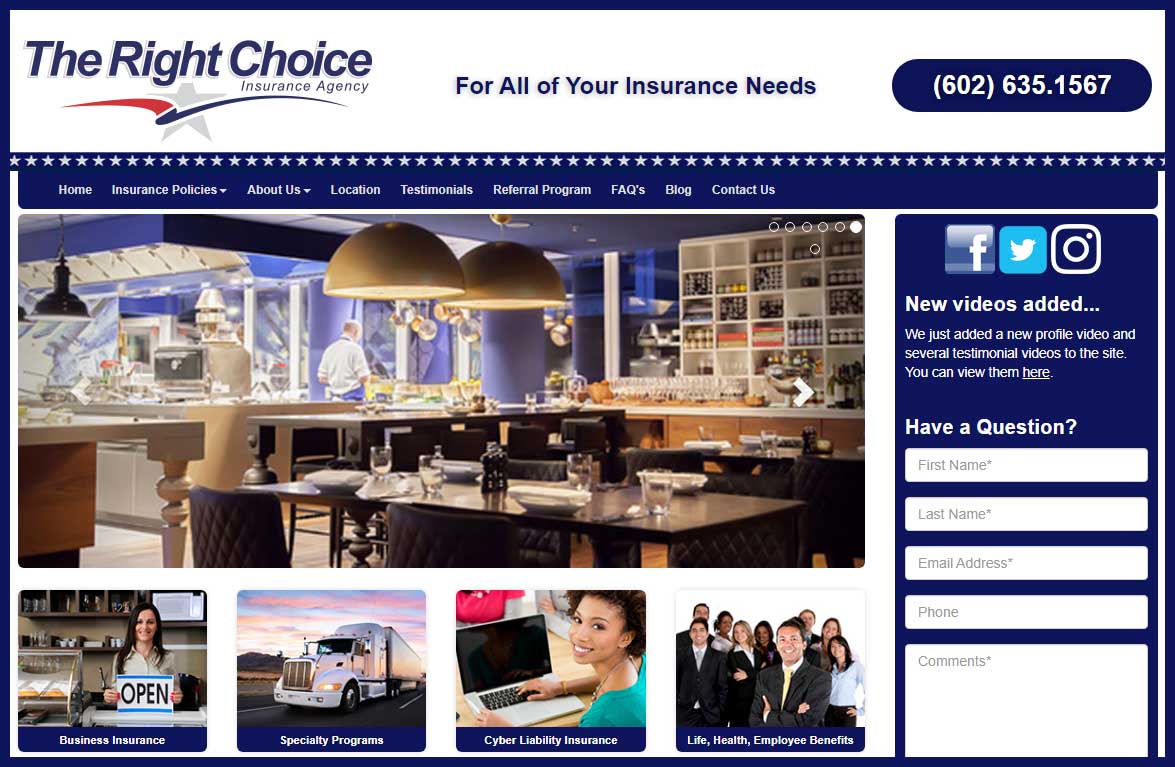 The Right Choice Insurance Agency, Phoenix Insurance Advisors, asked our opinion about their existing website. After reviewing the site and pointing out many missed opportunities to not only rank better, but to convert site visitors they moved forward with a redesign of their site, the result shown above.

We structured the site based on the way businesses in the Phoenix area searched for insurance. Our tools allow us to query Google and ask how many people search using this keyword phrase in Maricopa County? Google responds with not only the answer, but alternative phrases as well that actually may be searched more frequently. Armed with this data, we build the site to be found for the keyword phrases your prospective customers actually use. This is the very core of our "SEO 1st Website Design" strategy. This approach results in more opportunities for your website to rank well, generate traffic, and convert site visitors into paying customers. Isn't that why you wanted a website to begin with.

For The Right Choice Insurance Agency the site redesign resulted in an immediate request for quote on a new policy.

TRC Insurance Agency president, Lou Pingtella had this to say once the new site went live...

"We had an outdated website for our Independent Insurance Agency. I met with Brian (owner) and he immediately saw that we weren't mapped properly, it wasn't mobile device friendly along with a host of other items. Bottom line was we had very good content but the search engines weren't picking it up. We needed do an overhaul if we wanted results, especially in the highly competitive field of Insurance Agencies.

Initially Brian did an SEO Search to find the best words/phrases to use in order to optimize being seen by the search engines. He did a great deal of keyword research and made awesome suggestions!

Throughout the project, we were assigned a "Project Engineer" who was extremely informative, knowledgeable and had weekly meetings to make sure we were on target and to complete a checklist of items to do and completed. Chad was extremely helpful throughout the process. Extremely professional and always willing to give us great advice.

As our website was going through a transformation, we had access to make certain it was what we wanted and the content was correct. Although we primarily used our existing content and we added some new content, BANG! provided us with suggestions and ideas to help us make our web site stand out. BANG! was ALWAYS willing to listen to us and make changes or corrections that we felt were best for us. Ultimately they provided sound advice but listened to us so we could have the best web site!

Our web site is now up and we must say that it is SPECTACULAR! The site is very modern, easy to navigate, user and mobile device friendly and more than we could ever want. The amazing part is during the first week our site went live, we actually had a prospect contact us. This is the first time in more than 3 years of having our old site! WOW! Impressive!

We are in the training stage as they are showing us how we can do some of the changes ourselves (cost savings) as things change. It is easy to navigate and their training is outstanding. We are excited to continue to see the results of our new site and Brian assured us that we will be on the first page of the searches and hopefully #1 - #3.

I must say that BANG! Web Site Design delivers on their promises and then some. The old adage, you get what you pay for is relevant in our case.

BANG! Web Site Design's slogan is "Websites with Impact Measurable Results Guaranteed". I am confident that we will have results and I HIGHLY, STRONGLY AND UNEQUIVOCALLY RECOMMEND BANG! You can't find anyone in this field that is more qualified and professional than my friends at BANG!

Thank you Brian, Chad and all your team for all of your help, support and awesome web site for The Right Choice Insurance Agency. We can't thank you and your team enough. I would call and hire BANG! in a heartbeat if you want the best site on the Internet! There is no better time than right now to call them. You won't be disappointed."

Lou we couldn't say it better ourselves. Call us today at 602-427-5626 or request a website design quote if you would like your website to provide a positive return on your investment!


Websites for Contractors - A Case Study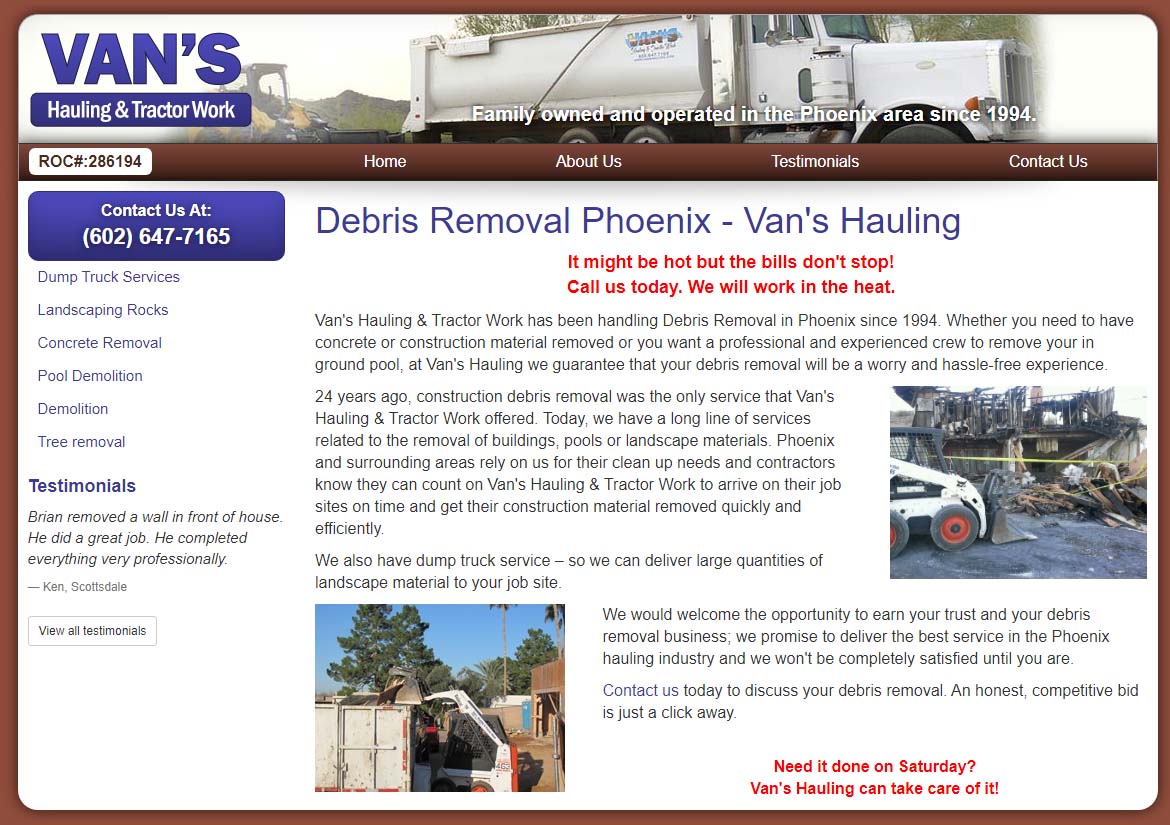 Vans Hauling (
www.VansHauling.com
) missed a lot of business opportunities due to the fact that they couldn't get found on Google with their previous site that they built themselves on a popular platform. BANG! delivered and they are now at the top of Google's search on page #1 and their contact requests continually pour in.
We truly wonder how many business owners take a crack at building their own website and end up with zero results to show for it. Though many that build their own site and don't see results may just take the attitude that the Web simply isn't the tool for them to market their products or services we are thankful when companies like Van's Hauling give us an opportunity to prove that thinking wrong.
Our solution:
Van's Hauling offers some unique services to a large geographic target market and to us that meant lots of potential for results. Through careful research, we determined exactly what their prospective customers were searching for then built a site to be found for those keyword phrases.
Results:
Our
SEO Services
resulted in many first page Google rankings which drove traffic to the site. Once there, site visitors converted into prospects by filling out the contact form. One month they had 19 potential customers contact them through the website!
In Gigi's own words...

"
The team at BANG! Web Site Design is wonderful - from the initial concept of the website to the training provided to manage the site myself. The entire process was completed in a professional manner within a month. Our site has been live for a few months now, and we can already find Van's Hauling on page 1 of Google! We have also received several contacts from potential customers from the Contact Us page.

We made the right decision to hire BANG! Web Site Design to build our site. We highly recommend them to anyone seeking a presence on the internet.
"
Are you ready for results from your contractor website? Contact us today to put our crew to work for you!
WordPress Alternatives - Notre Dame University Band Case Study
Frustration > Hope > Excitement > Success!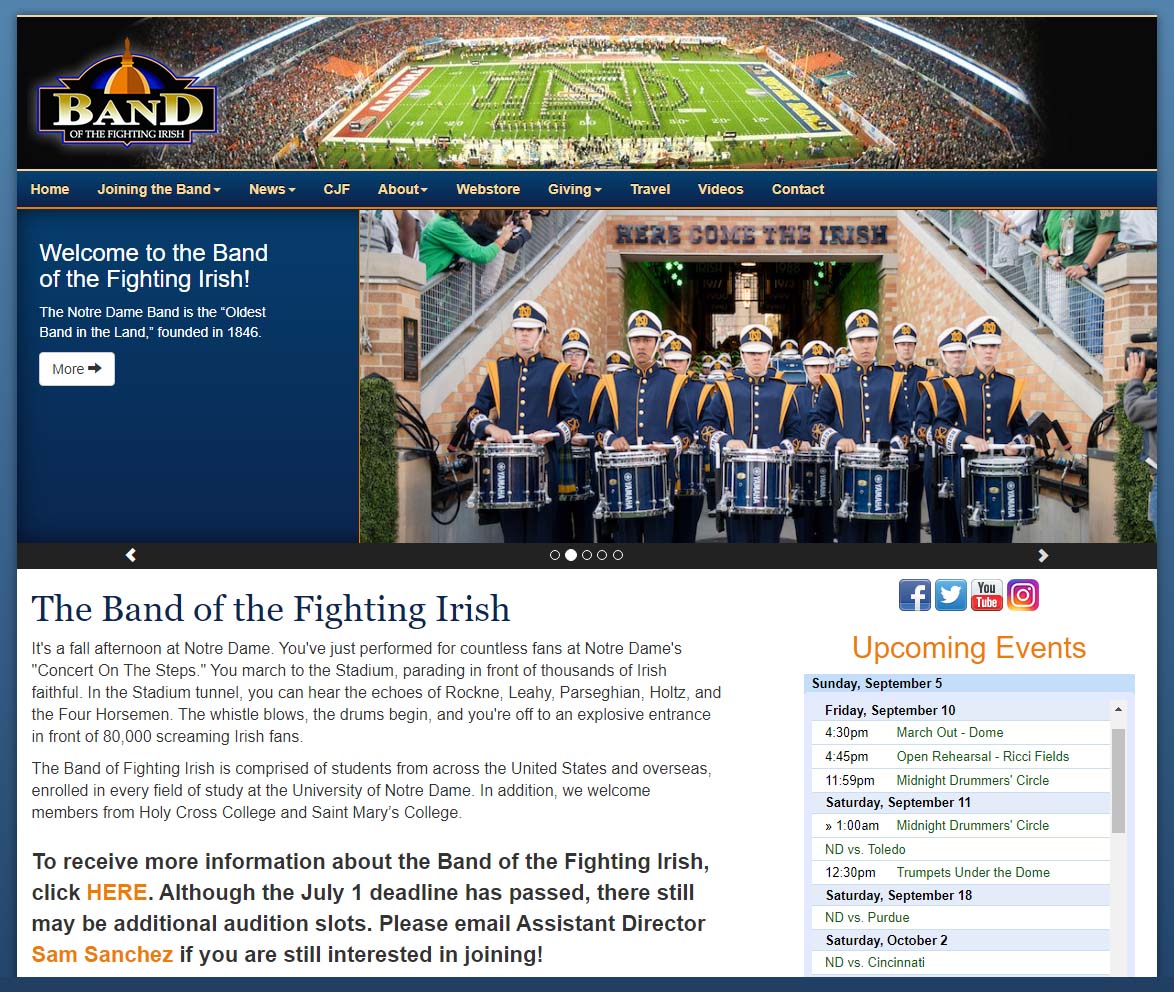 Justin McManus, Assistant Band Director from The University of Notre Dame Bands (www.NDband.com) contacted us about redesigning their WordPress site. They were frustrated with how difficult it was to manage the site and they wanted their site to be mobile friendly for their students. They also had additional keyword phrases they wanted to rank for.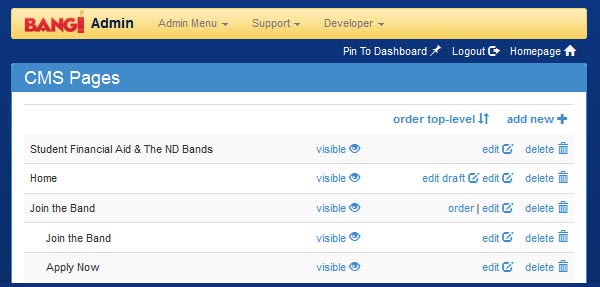 Our solution: Keyword research which is a proven success formula for high rankings, a Responsive Web Design and our latest CMS (Content Management System) which allows Justin the power to easily update and add pages as well as add slides to the slideshow on their homepage to showcase the Band of the Fighting Irish.
Results:
A post go live training session that wowed! When questions were asked as to whether or not certain functions could be done in their admin we quickly responded with "Yes", and "Easily". After their past frustrations, I think they were blown away with just how easy it was to make updates to their new site.
In Justin's own words...
"
It was great working with BANG!, and I know the staff are thrilled with the results. We're very excited to have a fresh, exciting website to move our program forward.
"
Thanks for "tooting our horn" ND Bands! The music is much sweeter when you play it. We look forward to moving your program forward for years to come.
Are you ready for an alternative to WordPress that won't leave you frustrated?
Contact BANG!
for a CMS (Content Management System) guaranteed to bring music to your ears.
Websites for Property Managers - A Case Study
Website Overhaul Results in Home Run for CES Property Management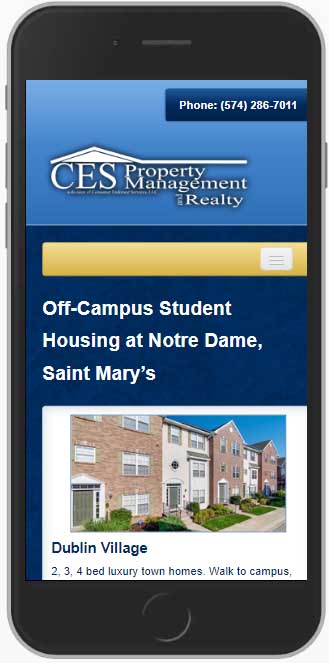 CES Property Management (
www.CESpm.info
) came to BANG! with an older site ready for a new look and they were eager for a mobile optimized site to reach their target customer...Notre Dame Students. Their ROI (Return on Investment) was nearly immediate!
CES's previous site was older and it worked for their property management business for a while however it steadily lost page rankings to the point that they went from first page ranking to anywhere from page 10 and beyond. It also was time for a fresh look using new technology including the ability for site visitors using mobile devices to have a great experience.
Our solution:
For their site, we used a
Responsive Web Design
technique that optimizes the site for viewing based on the site visitors screen resolution. This allows the primary target visitors, Notre Dame Students, to have an optimal experience on their iPhones (75% of the mobile visitors are using iPhones). We also used our CMS (Content Management System) which allows Henry the ability to easily update their off-campus student housing listings and his clients have the ability to pay online.
Results:
The client saw results quickly in their search rankings and had outstanding success renting out properties within months of the new site going live. He quickly received a positive return on his investment. Future conversations revealed they were selling out their inventory of properties years ahead, online, within weeks of posting the available units.
In Henry's own words...
"
As it happens with many small businesses, we came to the conclusion that our website was in need of an overhaul. Since 2005, our business has grown consistently, yet in the last 3 years we started experiencing some challenges in reaching our niche market. I had designed our original website and while simple and functional, it certainly was a testament to my limited time and knowledge! It worked for a while, but with the changes in site rankings requirements we saw our page ranking go from the first page to anywhere from 10 and beyond. With the help of BANG! Website Design and a reasonable budget, in a short three to four months we saw our site go to the front and the first page in the rankings. The results for our business have been phenomenal and put us a year ahead in our business plan. Way to go BANG!... you hit a home run for us.
"
If your property management company's website is in need of a little "batting practice", schedule a consult with us using the button below.
Schedule a Free Consultation Today