I know what you are thinking... How can I design my own website?
Well... you can design your own website, but then again, you could try to do your own brain surgery too, and we know how that would turn out, right? A better question would be...
What is a Custom Website Design?
That, my friend, is the right question. A custom business website is a collaboration between the business owner or perhaps the VP of marketing, sometimes the janitor (we know you wear many hats), and a Phoenix custom website design company (that's us!). You've got ideas about the best way to present your brand (and no, we won't do a flaming logo... unless you're a BBQ joint). We've got the creative process and the team of custom web designers to create a unique brand identity for your very own personalized website design. After all, what is a web design company good for if they can't get some creative momentum going and give you the custom business website you want? Isn't that the important thing?
And of course, we'll provide the usual web design services just like the best custom web development firms including...
An estimate upfront so you know what your custom website development cost is

Keyword Research so we are certain what your customers are looking for at the search engines

Custom Design using our established creative process

Responsive Website Design so we deliver a mobile-optimized SEO friendly site

Content Development typically in-house with our very own SEO Content Expert

Our Custom CMS Implementation

Search Engine Optimization (SEO) for first page Google rankings

User Experience Testing

Website Hosting on our speedy and reliable servers

Website monitoring every 5 minutes proving our reliability

Website Analytics so we know how many new prospective customers you are attracting
Oh, but that sounds expensive, so now you ask...
What does it cost to have a custom website designed?
The good news, custom web design pricing isn't as expensive as you would think (way less than that brain surgery we were talking about). At BANG! we specialize in affordable custom web design, and we've been building sites since 1996. While we can't give you exact custom website design pricing for your web design projects without talking with you and learning the scope of your project, as long as the site doesn't involve online sales, we can probably get your firm's custom design done for well under $5,000. Our hourly rate is relatively low for a custom web design firm, especially considering the high quality of our work. Top custom website design agencies, especially in big cities like New York, usually charge more for sites that are more like custom software development.
You might want to add a little more to your projects budget if you want to include video production, digital marketing and search engine optimization with the project (you do want Eddie's Extravagant Entree's to show up at the top of the search engines right?). Custom web design isn't as expensive as you thought, is it? Why would you want to work that hard and risk making a bloody mess by trying to do a custom site yourself? Hire BANG! instead as your custom web design firm.
At BANG! our professionally built custom websites designs are just that, customized to fit your Phoenix business's sales and marketing goals. In addition to a well-designed site, we focus on search engine rankings for keyword phrases appropriate for your products and services, and most importantly, we build sites that convert and close the sale.
Here is what one client said about his success…

"BANG! took my DIY (Do It Yourself) template-based Web site that was invisible to search engines and useless on mobile devices to a highly ranked lead generation machine! I've had days where the phone wouldn't stop ringing for wedding catering requests. All because of BANG!'s Guaranteed Measurable Results!"
4 Reasons to Choose Custom Website Design and Web Development
Custom Website Design Makes You Stand Out From Other Companies

94% of Site Visitors Cite the Website Design as the Reason They Don't Trust a Site

Avoiding Templates Raises Trust & Increases Conversions

Custom Website Development & Automation Can Save You Hours Every Week
Custom Web Development
So far, we've talked mainly about the website's design, but now it's time to put on your propeller hat. We are now going to talk about that nerdy custom coding, programming, geeky stuff, and talk about hiring a custom web developer. That's right, at BANG! we handle a wide range of projects that include both custom web design and development.
Here are four examples of custom website development that resulted in our client's saving time and increasing sales that our custom web development agency has worked on.
Carsultants didn't just want prospective customers to fill out a form and email them, they wanted instant SM texts from prospects, and of course we delivered.

Now when a prospect hits the site and enters their message and phone number, our client immediately gets a text message so he can respond right away and assist the customer with their car buying or leasing experience. We've also integrated various chat systems with websites as well.

For Edgerton's travel, creating a beautiful website was easy. After all, we had lots of gorgeous photos of their travel destinations to work with.

What wasn't so pretty was taking orders on the website and entering reservation data a 2nd time by hand. To make their lives easier we integrated the website with a 3rd party system running on the Amazon cloud. We now grab tour details from the 3rd party and then display them on the site. When a tour is full, it automatically stops selling tickets.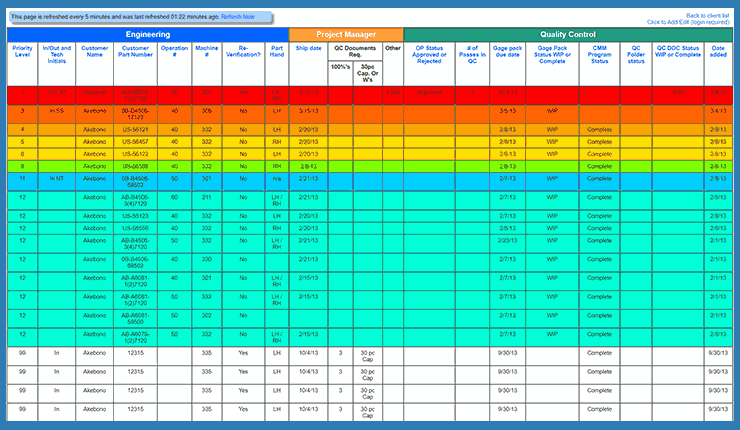 One manufacturing client asked us to build an online production sheet of every project currently in the shop. It shows a list of all projects, color coded by the project's status, what department it's in, and if there is a holdup, where the delay is.

The single-page custom website is displayed on a large screen TV on the shop's wall for the entire staff to see. It's helped keep production up and the shop moving.

Our custom-developed shopping cart system takes their customer's orders 24/7/365. We also created this production order report for the shop that exports to Excel, letting the production floor know what products to build.

We automated a 2 hour a week manual job with some tricky web programming. What would you do with an extra 2 hours a week?
Custom Web Development Services at BANG!
Built to meet any Phoenix firm's expectations, with a design that stands out from other agencies. From the best design to custom programming and building the site using the latest Search Engine Optimization techniques, our design team has the experience and skillset to produce a wide range of sites that look great. They also rank well on search engines, including Google and Bing!. After all, a professionally designed custom website serves no purpose if it is invisible online.
From small businesses to large, attorneys to contractors and manufacturers, our custom website design services fuel our Phoenix client's sales efforts. We build our sites to fully utilize the power of the Internet in growing your business. With nearly 2 billion websites and counting, it is more important than ever to have an attractive site that is easy for site visitors to find. It must provide a great user experience and lead them to your desired call to action (listen... hear that cash register ring?).
Since 1996 we have been creating custom website designs that showcase our Phoenix client's products and services. When combined with our step-by-step SEO process to achieve high search rankings, we deliver Measurable Results... Guaranteed! Perhaps that's what makes us the best custom web design company for your firm.
Phoenix Custom Website Design and Development by BANG!
Take the next steps and
Request a Quote
on your custom web design today or better yet
Schedule a Free Consultation
.