Website Launches - Avoiding Failure
by Brian Rideout • September 04, 2015
We recently lost a web design client. Yes it happens, even to us. Even though on average our clients stay with us for 7 years, once in a while they do choose to go elsewhere. In this case I didn't feel too bad. Our contact's boss gave the redesign to his daughter in-law. Tough to compete with family. Interestingly our contact insisted that we retain control of the domains, DNS (Domain Name System which converts the user friendly website domain name into the IP addresses computer use to view a site), and continue to handle their e-mail. I certainly saw that as a vote of confidence. Turns out our contact was smart to have concerns. Here's how the launch of the new site went (or didn't…).
Mid-week the new web designer e-mailed to ask if we could make changes to the DNS records Friday at 5:00 to put the new website live. That was the first red flag. At BANG! we never launch new sites at the end of the week. If things go wrong, the weekend only complicates issues. Communication is more difficult, senior support techs are not available; some companies don't even offer support on the weekend… nope, bad idea. Of course the Web client's always right… so Friday at 5:00 we changed the IP address of the www and @ (the domain name alone with the www sub-domain) records to the IP address supplied by the daughter in-law. With that change our job was done.
The weekend came and went and Monday morning we received an e-mail from the new Web designer saying the site was throwing an error message (screen shot of the error below), please advise. Uh, oh! At that point I assumed the site had been down the entire weekend and troubleshooting was just now taking place. I replied immediately and copied the client (in case he wanted to revert to his old, but at least live site) and explained that we had implemented the DNS change requested and suggested they contact the new hosting company as the error was obviously hosting related. Web traffic was getting to the server, but the server wasn't configured to handle it.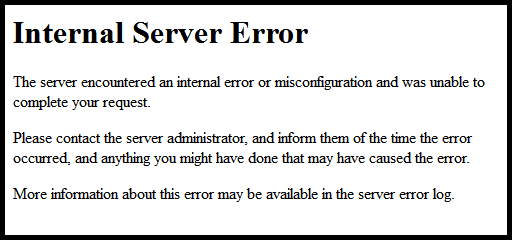 Concerned at this point, throughout the day, I refreshed the page, hoping to see a shiny new website for the client. Sadly, all my refreshes throughout the day showed the same error message. The next morning however a new error message greeted me.

Progress? Not exactly, but obviously someone was trying.
Wednesday morning I was finally rewarded with the actual website. A typical Wordpress site using the same theme as thousands of other sites but it sure beat the error messages from the previous 4 days.
So, if you are still reading, here's some suggestions to make sure this doesn't happen to you.
#1 – Choose a Web designer that handles their own hosting.
A Web designer that relies on a 3
rd
party is dependent on the hosting company when things don't go well. In this case, it took days to correct a simple configuration issue. At BANG! Web Site Design we've handled our own hosting since 1998. We simply don't have these types of issues as we are intimately familiar with our platform and Web servers.
#2 – Ask your Web design firm how they'll transition from the old site to the new.
How will they test the new website prior to launch and how will they deploy it? Again because we have our own network we've got some additional tools at our disposal. For one we have development servers that we use for initial testing. We also have an internal DNS structure that allows us to simulate the site being live on the actual Web server, on the final domain, all before the launch allowing complete testing before deployment.
#3 – Experience counts.
I have no idea how many sites the daughter in-law has designed and deployed, but this one sure didn't launch well. It reminds me of a quote. "Amateurs practice till they get it right. Professionals practice tell they can't get it wrong." Hiring a professional Web design firm is in your best interest and will go a long way in avoiding unexpected failures to launch.
Ready to hire a professional Web design firm? Contact us
here
, or at 602-427-5626 ext 101.
About the Author
Brian Rideout is the Chief Pixel Pusher of BANG! Web Site Design. A veteran in the industry (sounds better than saying he's old) he's been helping businesses succeed in the game of Internet Marketing since 1996.