Website Design - The Cost of Procrastination
by Brian Rideout • April 11, 2016
Putting off a website design or redesign project can negatively effect both your search ranking results and ultimately your sales. We meet with and create estimates for many potential client's during the month. Some come on board as client's immediately. Some delay the start of the project for weeks or even months, and some never move forward at all or attempt to do it themselves. The answers to the question why aren't we moving forward with your website are generally either time or money based. What I hate is that the procrastinators are only hurting themselves.
For brand new startup companies or companies that have never had a website (yes there are many out there) it's important to get a Web presence started quickly. Here's a few reasons why...
Credibility - Your customers WILL check you out on-line. The Internet has made it possible for anyone to perform due diligence with a few mouse clicks. Most prospective customers are going to look for you on-line and if they don't find you, you are leaving a very negative first impression.
Search Rankings Take Time - Google doesn't reward brand new websites with high rankings. It takes time before Google will trust your site and rank it well for any keyword phrase searches other than your own name. In our experience that period of time is about a year. We've had multiple client's whose results skyrocketed around that 1 year anniversary as the Google Webmaster Tools Search Analytics Graph below shows.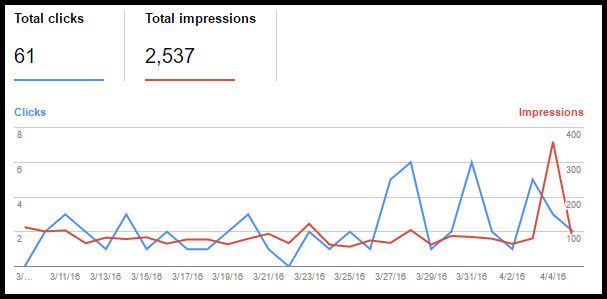 For companies that have an existing website that is old and need of a facelift, a website redesign generally delivers instant gratification. There's a couple of reasons why...
Mobile Friendly for the First Time - Often we are redesigning sites that weren't mobile friendly. Google penalizes non-mobile friendly sites when searches are performed on mobile devices. Converting the site using Responsive Web Design removes that penalty and drives new traffic to the site. Plus now those mobile visitors have a pleasant experience and aren't subjected to pinch and zoom techniques and frequent scrolling trying to read your website.
SEO Included in the Redesign - At BANG! we bake SEO in during the design process. The website, often for the first time, is optimized for the keyword phrases the business needs to rank for. Since the site has already passed the 1 year age test, the results from even that initial on-page SEO work are nearly instant. But don't take our word for it.

Here are three testimonials from our website design client's that saw the benefits of our SEO techniques being used as part of a website redesign almost immediately...
"The team at BANG! Web Site Design is wonderful – from the initial concept of the website to the training provided to manage the site myself. The entire process was completed in a professional manner within a month. Our site has been live for a few months now, and we can already find Van's Hauling on page 1 of Google! We have also received several contacts from potential customers from the Contact Us page.

We made the right decision to hire BANG! Web Site Design to build our site. We highly recommend them to anyone seeking a presence on the Internet."
- Brian & Gigi VanKilsdonk, Van's Hauling
"Our web site is now up and we must say that it is SPECTACULAR! The site is very modern, easy to navigate, user and mobile device friendly and more than we could ever want. The amazing part is during the first week our site went live, we actually had a prospect contact us. This is the first time in more than 3 years of having our old site! WOW! Impressive!".
- Lou Pingtella, Quantum World Wide
"As it happens with many small businesses, we came to the conclusion that our website was in need of an overhaul. Since 2005 our business has grown consistently, yet in the last 3 years we started experiencing some challenges in reaching our niche market. I had designed our original website and while simple and functional, it certainly was a testament to my limited time and knowledge! It worked for a while, but with the changes in site rankings requirements we saw our page ranking go from the first page to anywhere from 10 and beyond. With the help of BANG! Website Design and a reasonable budget, in a short three months we saw our site go to the front and the first page in the rankings. The results for our business have been phenomenal and put us a year ahead in our business plan. Way to go BANG!… you hit a home run for us."
- Henry Catalino, CES Property Management
For each of these client's redesigning their websites resulted in a very quick return on their investment. Their results aren't alone and these results should be expected. If you invest in a website design project with BANG! we'll deliver measurable results, guaranteed! So what are you waiting for? Fill out our
Request for Quote
form or call us right now at 602-427-5626 so we can get to work generating new business for you!
About the Author
Brian Rideout is the Chief Pixel Pusher of BANG! Web Site Design. A veteran in the industry (sounds better than saying he's old) he's been helping businesses succeed in the game of Internet Marketing since 1996.