Hot Temps Can Lead to Cool Website Results
by Brian Rideout • July 17, 2015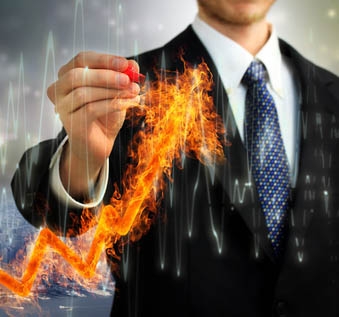 Wow is it hot outside! With such record-breaking temperatures, it is hard to imagine doing anything but sitting inside with the air conditioner cranked up. Why not take advantage of the current heat wave, and make some needed updates to your website before you hit the pool?
If you own a website, and it is important to the success of your business, then you know that the key to getting to the top of the search engine results and staying there, is to update your website with fresh, relevant and useful content. In fact, if your website has already been optimized for the keyword phrases you are going after, adding fresh content to your website on a regular basis will ensure that you maintain and/or improve your website's ranking position. So, what is stopping you from adding quality content to your website regularly?
Ok, so maybe you are not a professional writer, and you do not feel comfortable writing for all to see. Perhaps you simply have no time left over for that newsletter or blog post you have been thinking about adding to your website. Regardless of your reason for not adding fresh, relevant, useful content to your website on a regular basis, skipping this essential element will definitely hurt your website's ranking in search engine results, and ultimately harm your bottom line.
We know that adding quality content to your website on a weekly basis is considered a "best practice" supported by all of the major search engines. The good news is that we have a solution for you. At BANG! Web Site Design, we use professional writers, whose sole purpose is to create the compelling content your website needs to succeed. We provide affordably priced, fresh content optimized for your website's keyword phrases. Content that will energize your website with weekly updates, content your website needs in order to get on top and stay there.
BANG! Web Site Design is the premier website design company in Phoenix, AZ. We are dedicated to helping our clients reach their online goals and achieve success. We encourage you to discuss your website's content needs with us. We will demonstrate the benefits of regularly adding useful, relevant, fresh content to your website in order to increase your website's visibility on the Internet. We will show you how easy and inexpensive it is to work with us to maintain and improve your website content, and ultimately to improve your website's ranking.
Even though it is hot outside, don't get steamed at your website's poor performance. Find creative ways to stay cool, and let the professionals at BANG! Web Site Design heat things up for your website, your search rankings, and your business. If you are ready to discuss your content needs with a website design specialist, call us today and explore your options. BANG! Web Site Design has a solution for every challenge and need you will ever experience. Remember, Hot Web Design Leads To Cool Search Ranking Results!
About the Author
Brian Rideout is the Chief Pixel Pusher of BANG! Web Site Design. A veteran in the industry (sounds better than saying he's old) he's been helping businesses succeed in the game of Internet Marketing since 1996.