Happy New Year! Now, What's Your Internet Marketing Plan For 2016?
by Brian Rideout • January 01, 2016

Congratulations! Just by being here reading this I know you are a strategic thinker. Someone who plans ahead and wants to make 2016 the best year yet for their company. So here's some thoughts as to what you can and should do in 2016 to grow your Internet presence and dominate the competition.
Is your website responsive? Is it optimized for mobile site visitors whether on an iPhone, iPad, or an Android or Windows mobile device? If the answer is no, stop, do not pass go, you've just established your #1 priority for Internet Marketing in 2016. On April 21st of 2015 Google changed their search ranking algorithm to prioritize mobile friendly websites when the search was performed on a mobile device. And according to Google more searches are being performed on mobile devices than desktop computers. So yeah! It's important! Want to learn more? Check out this page on responsive web design.

Do you have a clear call to action on your website? By call to action I mean what do you want the site visitor to do next from this page? Examples include...

Call
Fill out a contact form
Purchase a product
Sign up for an E-newsletter
Download a white paper
Connect on Social Media?
These are all valid calls to action. Now, how easy is it for site visitors to execute those calls to action? Is your phone number prominent on every page of the site? It amazes me how many sites still only publish a phone number on the contact us page. Are you other calls to action clear and prominent? Think big colored button that they can't miss. How well do they work on a phone? Remember, this is 2016, we need to think mobile first.

How are your Web analytics looking? If you haven't looked in a while put a recurring entry on your calendar to check every month. Go one step further and create an Excel file that logs key metrics every month for easy comparison over time. Key metrics might include...

How many visitors do you have to the site every month?
How long do they stay?
How many bounce after viewing a single page?
Are there clear patterns of paths through the site leading to your desired call to action and how many visitors follow this path?

Don't have any analytics setup? Give yourself a swift kick in the seat of the pants and call your Web designer or hosting company and get them setup. If you are managing your own site, setup a Google Analytics account right now! You can't track what you can't measure.

How are you getting traffic to your site? If you are still buying keyword phrases at Google through their AdWords program your are missing out on 75% to 80% of potential site visitors. Why? Because the majority of people (4 out of 5) don't click on ads! Instead find a reputable SEO (Search Engine Optimization) company or talk to your Web Designer about how to rank well in the natural or organic search results. And be sure to aim high. The #1 position on a search result gets the majority of clicks from 1/3 to over 1/2 depending on which study you look at.It drops rapidly from there with positions 6-10 on the first page getting less than 10% of the clicks combined. So to put that another way. If your site isn't ranking in the top 5 for your critical to success keyword phrases, you only have a 1 in 10 chance of getting a click & site visitor if you are ranked in the 6th through 10th spot. Page 2? You might as well not be listed at all. It's extremely unlikely anyone is going to find you on page 2.

If you want to give it a go yourself with SEO here's a list of some activities to point you in the right direction.

Do...

Make sure your site uses HTML tags appropriately. The title tag and H1 tag in particular carry a lot of weight for on-page SEO.

Get links from clients, suppliers, organizations (think chamber of commerce, BBB, etc.) industry associations, directories relevant to your business, etc. to your website.

Make sure all local directory listings have your correct NAP ( Name, Address, Phone) listed. Sites like Yellow Pages, Dex, Manta, Hot Frog, etc.. These sites are signals to the search engines as to what type of business you are based on the category you are listed under and to your location based on your City and State info.

Submit your site to www.dmoz.org and cross your fingers. Links from this site are powerful, but tough to come by.

Start writing longer copy for your website. Google has increasingly preferred more words on a page for top rankings. Used to be we'd tell our client's at least 300 words. Now we are recommending 500 or more. 1,000 words per page is an even better target. Search for your own keyword phrases and look at the top 5 results. How many words are on the page that comes up? For reference, this post has 1408 words.

Frequent updates to your site send a strong signal to the search engines that your site is active, thriving and worthy of ranking well. I suggest weekly updates to our client's through a combination of blog posts, news articles, project or case studies, and new pages on their sites. It sounds like a lot of work, but the payback in rankings really pays off.

Don't...

Pay for links. Google has gone on record that this a bad practice and they will penalize you if they catch you doing it.

Sign up for "500 backlinks to your website in 24 hours". The days of any link being a good link are gone. You only want links from sites relevant to yours and that have authority for the topic.

Don't get or create links that all use the same anchor text (the text that is linked). An unusually high number of links using the same phrase will hurt you, not help you. Be sure to mix it up. For example "Phoenix website designer, web designer in Phoenix, & Phoenix web developer" all mean roughly the same thing but we've varied the text that would be used in the link.

I should mention all the bad, 1990's "tricks" such as keyword stuffing should be avoided. If it isn't visible on the page, it probably doesn't have much impact on your rankings.

Don't worry about the keywords metatag. Google hasn't looked at the Keywords Metatag since 2009. One source said Bing! looks at it.... and counts it against you if you are using it. Things have changed in the word of Web development and SEO over the years.

Social Media - If you haven't started, no time like the present. At the very least create/claim your desired page URL. Some of the social media sites insist you get "X" likes or followers before you can, but strive to at least accomplish that so you can forever have www.facebook.com/yourcompanynamehere

Be strategic with which social media platform you engage with. If you are a B2C (business to consumer) company Facebook is probably a good bet. If you have a highly visual product, try Pinterest. B2C (business to business) companies may find their prospects are on LinkedIn. I encourage our client's to pick a platform or two and do it well. Spreading yourself too thin and doing a mediocre job won't get the results you are looking for.

Video Marketing - Video has gotten so easy to produce. Got an iPhone... you are now a video producer (no offense to the professionals out there!). Like to create PowerPoint presentations instead? Turn those into a video and add narration. Be creative and post the finished clips on YouTube. Since it's a Google property, whatever you do there is sure to get noticed. While video doesn't have quite the SEO potential it did years ago, it's still a win when you can regularly post clips and link back to your site, while embedding them in your site for site visitors. A real win-win.
There you have it. Six ideas to help you with your Internet Marketing in 2016. For a longer version with more detail and your choice of watching the video or reading it, check this
blog post
out.
Happy New Year and good luck with your Internet Marketing Plan this year! Remember, people don't plan to fail... they fail to plan!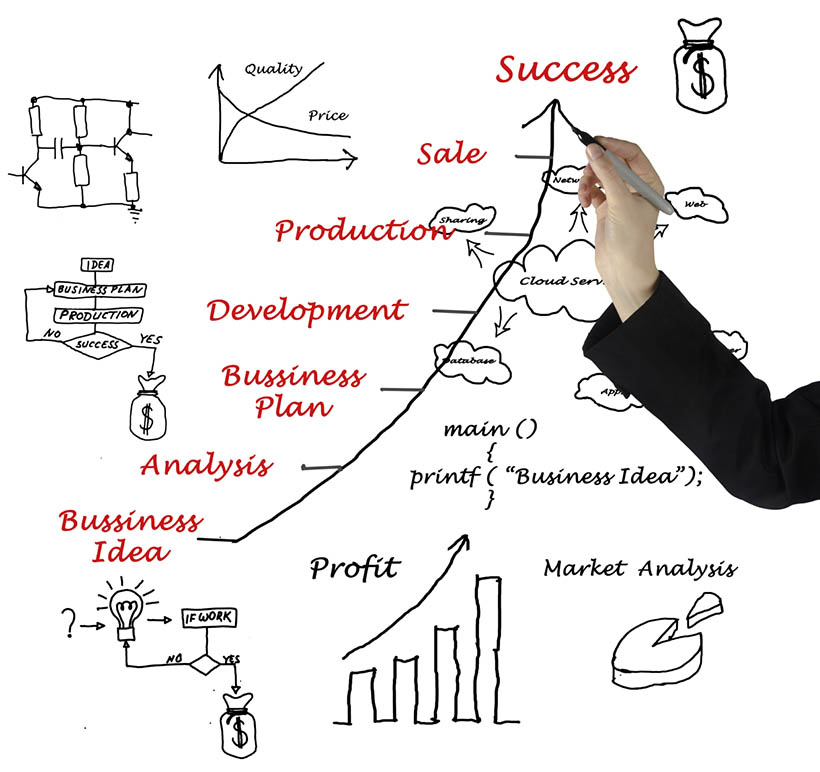 About the Author
Brian Rideout is the Chief Pixel Pusher of BANG! Web Site Design. A veteran in the industry (sounds better than saying he's old) he's been helping businesses succeed in the game of Internet Marketing since 1996.