Thank you for sharing this page with your friends.
Attorney Web Sites
Attorneys, lawyers & law firms need a powerful Web presence that shows professionalism and encourages site visitors to make contact. Below you'll find examples of Web sites built by BANG! Web Site Design Phoenix that exemplify this criteria.
Aaron Black Law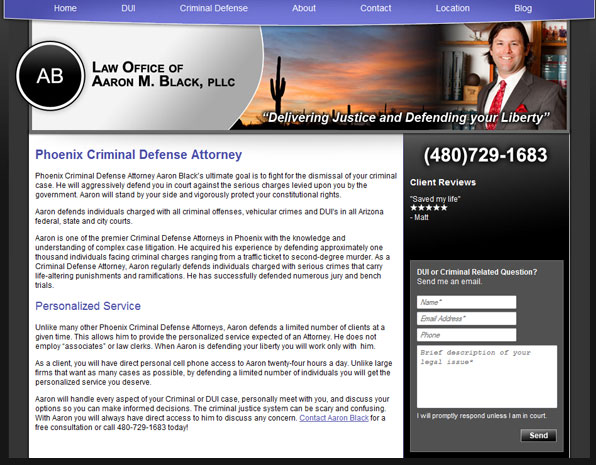 Phoenix Criminal Defense Attorney Aaron Black came to BANG! looking for a professional appearance on the Web. Not only did we design the image that Aaron was looking to convey for his business, he is also utilizing our blog system to help reach potential clients and with a quick contact form to help generate new clients, Aaron is well on his way to BANG!'s Guaranteed Measurable Results!

Whether you are a Criminal Defense Lawyer, Personal Injury Lawyer or Criminal Law Attorney BANG! can assist you in projecting the right image for your firm and we will build your website so that clients and potential clients can easily find your law practice!
Foley & Small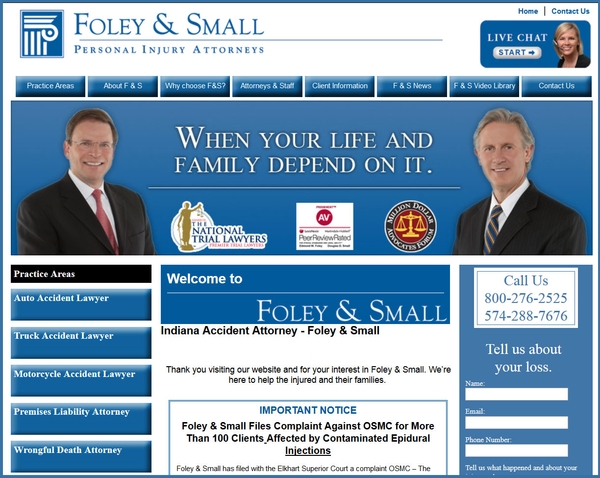 Personal Injury Attorneys Foley & Small came to BANG! looking for a website to express the professional representation that they provide for their clients. From auto accidents to wrongful death and medical malpractice, they also wanted to provide comprehensive information to visitors to help them make the right decisions when an injury occurs.

We developed a site that not only provides a complete line of information about the practice areas that they handle, we also integrated a live chat feature that allows visitors an opportunity to anonymously chat with a representative about their case. Foley & Small has complete control over administering their site with our CMS (Content Management System) and password protected login, alleviating the need to contact us to make changes or additions when needed.
Sanders Panowski, LPP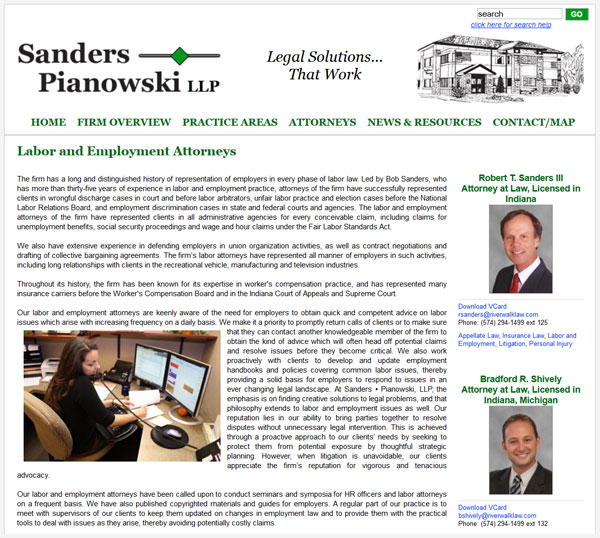 The law firm, Sanders & Pianowski came to BANG! for a redesign of their website that would convey the degree of professionalism that they provide their clients. The result was in depth information about their practice areas, downloadable V-cards of their attorneys and easy navigation. They also chose to utilize our E-Newsletter system to showcase actual cases and results, keeping their clients informed and up to date with the ever changing legal system.

Looking for a Web designer for your law firm? Whether you are a practicing attorney at law with a small or a large firm we are are confident that we can provide you with a website that will deliver the professional image you need for your practice! Click here to request a quote or call 1-602-427-5626 for more information!