Thank you for sharing this page with your friends.
Contractor Website Designs
As a contractor, your website is often the first point of contact for customers and an opportunity to showcase your projects to garner their attention. At BANG! we have over 22 years of experience building websites for contractors and we have the team to help you excel. See the contractor website projects below to see how we've helped other construction companies build a solid Web presence and lead generation machine.
Handyman Solution
Handyman Solution recently had us build their website to promote their long list of services they provide to Phoenix homeowners and businesses. We responded with a clean and simple design and SEO optimized pages for each service. Clear calls to action by phone or filling out the website contact form make it easy for their prospective customers to get in touch.
Arizona Hardwood Flooring and Supply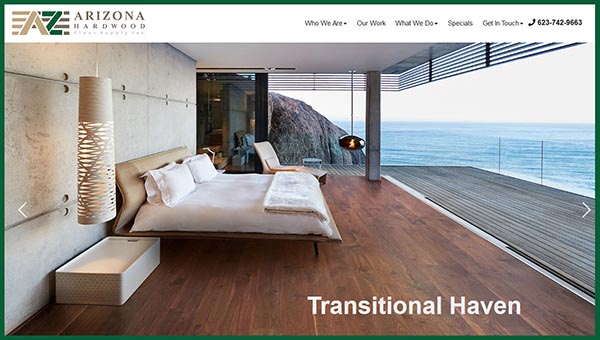 This is the 2nd redesign of AZwood.com performed by BANG!. The design features large full screen images with subtle wording floating across the page. Our projects system allows them to feature their latest work and builds search engine optimized pages for "type of work" + "city". Arizona Hardwood Flooring is also an SEO client and our ongoing efforts have put them at the top of the search results for their chosen keyword phrases.
Loves Garage Doors
Loves Garage Door Company in Phoenix came to us when their previous designer left the country and cut off all support. We responded with a fresh new design that showcased the beautiful doors they install and service. Adding an SSL Certificate to the site eleminated the Not Secure message most browsers show on insecure sites. We then implemented a monthly SEO campaign and we've watched their rankings steadily improve in the search engines.
Apple Plumbing Services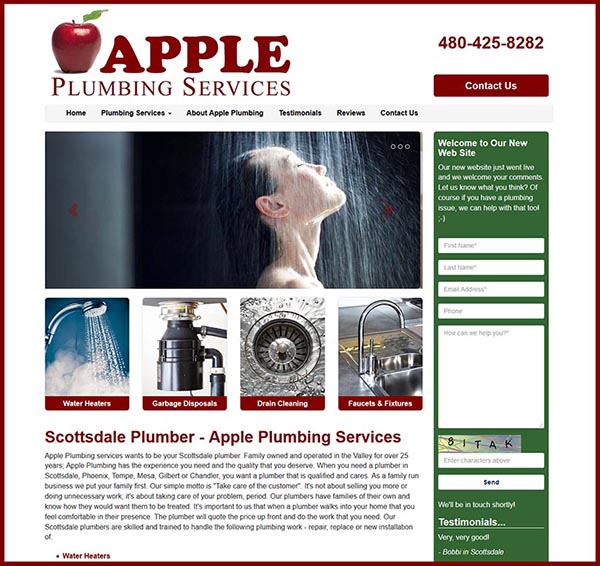 Apple Plumbing Services went the DIY route (as I'm sure many of your clients try with similar results) to building their website but realized it was time to hire a professional website designer. We gave them a great new look that they fell in love with. More important with having a great looking website though is how it performs. When combined with our montly SEO Campaign the results were astounding as this testimonial from Apple Plumbing proves...
"After 6 months of the new website launch and our monthly SEO Campaign, our Internet generated business has increased by 440%!"
Advanced Environmental Services Landscape Maintenance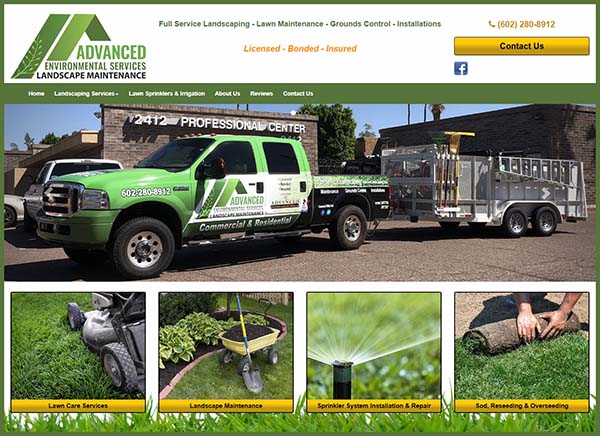 This is the 3rd website for the Advanced Development and Building Services parent company and if we do say so ourselves the site that most closely ties the website design to what they do. The grass "growing" from the bottom edge of the site really ties in. Featured service images as buttons gets site visitors to topics of interest quickly while search engine optimized pages and copy will lead to high ranking results.
Lawrence Construction
Heavy Civil Construction company, Lawrence Construction is a family-owned company in Colorado specializing mining and reclamation projects, heavy highway bridge and roadway construction, Lawrence came to BANG! to update their site to current industry standards and to provide a better means of showcasing their expertise and successful performance standards to their clients.

We redesigned their site to include a slideshow on their homepage that demonstrates the incredible projects that they undertake as well as a Project section complete with location and project type. Their site was also search engine optimized (SEO) and it includes access to jobs bidding for their building partners to secure access, view and download related project documentation.
The Robert Henry Corporation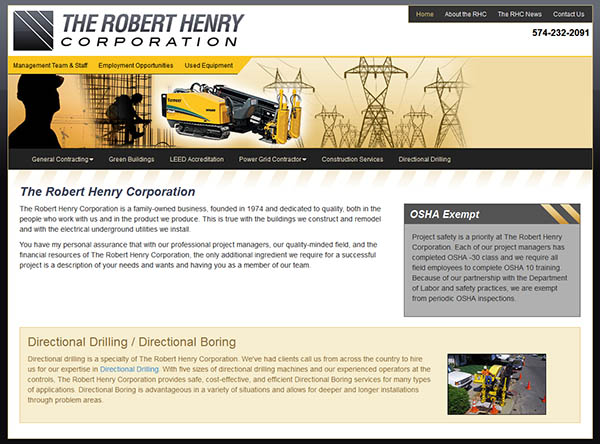 General Contractor, The Robert Henry Corporation has been a client of BANG! for over 15 years. Understanding that the need for a mobile website had finally arrived, they contacted BANG! and we created a responsive web design (RWD) to optimize the viewing experience of mobile visitors to their site regardless of what device they are accessing their site from.
Van's Hauling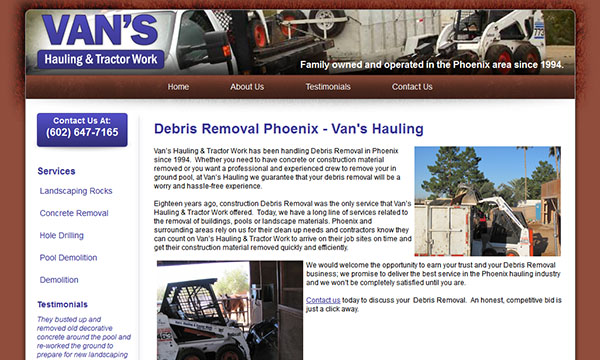 Van's Hauling may not be the biggest contractor out there but they sure got big results with their website! Formerly built on the Intuit do it yourself platform, they struggled to get noticed. After a full year they gave up and hired BANG! to get their "Measurable Results". We delivered with 1st page Google rankings in 2-3 months, and 1st place listings within the first year. They recently commented that during a 1 month time period they had 18 contact requests for work! Recently updated to use Responsive Web Design techniques, the site is ready for site visitors from both desktop and mobile devices.
From Desktop to Responsive Mobile websites, BANG! has the knowledge and experience to build you a "Website with IMPACT! - Measurable Results Guaranteed!". Our SEO experience will get you ranked high in the search results resulting in a steady stream of prospective customers contacting you for the projects you want!
If you are ready to take your contracting business to the next level call BANG! today at 1-602-427-5626 or fill out the form below.