Thank you for sharing this page with your friends.
Contractor Website Designs
As a contractor, your website is often the first point of contact for customers and an opportunity to showcase your projects to garner their attention. At BANG! we have over 20 years of experience building websites for contractors and we have the team to help you excel. See the contractor website projects below to see how we've helped other construction companies build a solid Web presence and lead generation machine.
Southwest Concrete Paving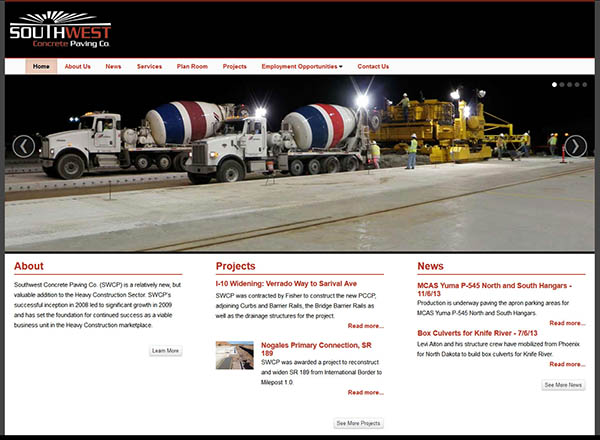 Concrete Paving Company, Southwest Concrete Paving Co. (SWCP) is a relatively new, but valuable addition to the Heavy Construction Sector and they came to BANG! looking for a way to display their capabilities in a BIG, Bold way as well as a way to securely share blue prints and project documents with stakeholders.
Our solution was a slideshow on their homepage that clearly displays their project capabilities and a Plan Room for sharing secure documents. We also integrated a project area that allows Southwest Concrete to cover in detail, current and past projects that visitors can review. As their website generates more projects for them to work on, they also utilize their employment opportunities page to recruit more workers for boots on the ground paving the way in the SouthWest.
Lawrence Construction
Heavy Civil Construction company, Lawrence Construction is a family-owned company in Colorado specializing mining and reclamation projects, heavy highway bridge and roadway construction, Lawrence came to BANG! to update their site to current industry standards and to provide a better means of showcasing their expertise and successful performance standards to their clients.

We redesigned their site to include a slideshow on their homepage that demonstrates the incredible projects that they undertake as well as a Project section complete with location and project type. Their site was also search engine optimized (SEO) and it includes access to jobs bidding for their building partners to secure access, view and download related project documentation.
The Robert Henry Corporation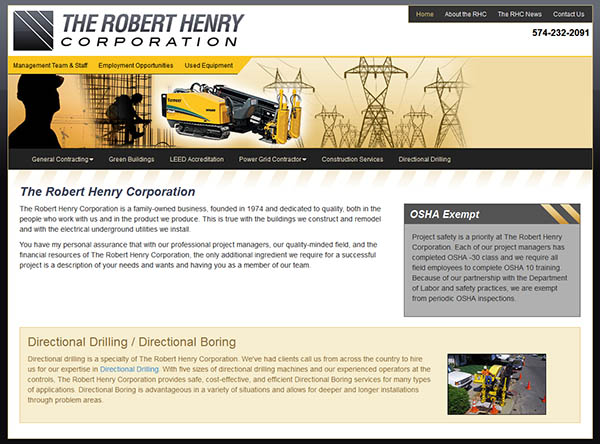 General Contractor, The Robert Henry Corporation has been a client of BANG! for over 15 years. Understanding that the need for a mobile website had finally arrived, they contacted BANG! and we created a responsive web design (RWD) to optimize the viewing experience of mobile visitors to their site regardless of what device they are accessing their site from.
Van's Hauling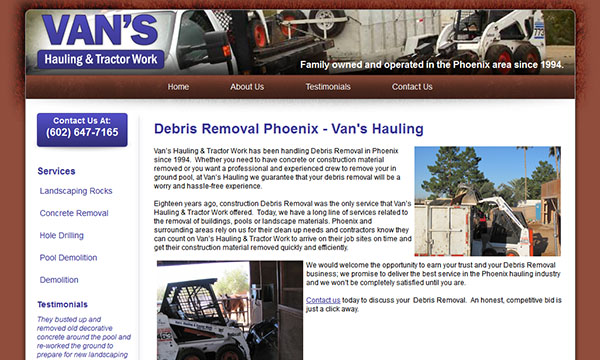 Van's Hauling may not be the biggest contractor out there but they sure got big results with their website! Formerly built on the Intuit do it yourself platform, they struggled to get noticed. After a full year they gave up and hired BANG! to get their "Measurable Results". We delivered with 1st page Google rankings in 2-3 months, and 1st place listings within the first year. They recently commented that during a 1 month time period they had 18 contact requests for work! Recently updated to use Responsive Web Design techniques, the site is ready for site visitors from both desktop and mobile devices.
Selge Construction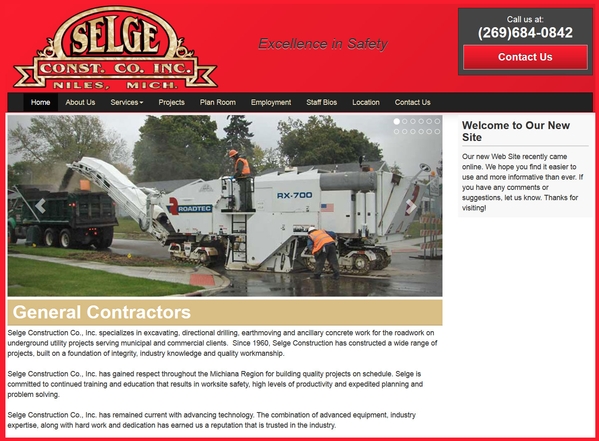 Selge Construction is a general contractor specializing in excavating, directional drilling, and earth moving for roadwork and underground utility projects. They serve both municipal and commercial clients from their Niles, MI location.
From Desktop to Responsive Mobile websites, BANG! has the knowledge and experience to build you a "Website with IMPACT! - Measurable Results Guaranteed!". Our SEO experience will get you ranked high in the search results resulting in a steady stream of prospective customers contacting you for the projects you want!