Thank you for sharing this page with your friends.
School Website Design
For over 18 years BANG! has been building websites for both small and large organizations and schools are no exception. A schools web presence is an opportunity to not only showcase as schools curriculum but to also keep parents up to date with athletic events and upcoming school and family events.
The University of Notre Dame Band
The University of Notre Dame Band reached out to us to redesign their aging website. Originally built upon the WordPress platform, we gave the site a new fresh look and used our secure and easier to use CMS (Content Management System). After launch, Assistant Band Director Just McManus said, "It was great working with BANG!, and I know the staff are thrilled with the results. We're very excited to have a fresh, exciting website to move our program forward." Ready for a fresh new look for your school? Contact BANG! today.
The Montessori Academy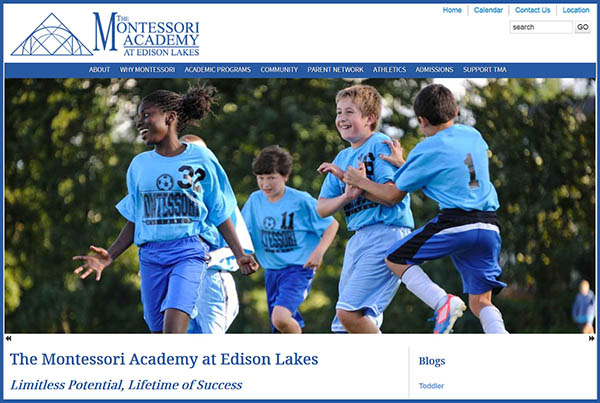 The Montessori Academy at Edison Lakes is a private Montessori school that offers a unique educational experience based on the teachings of Dr. Maria Montessori. They came to BANG! because they felt that their previous site wasn't conveying the message of what the Montessori Academy is really about. Our solution was large images in their homepage slideshow that showcase their diversity and educational opportunities. Easy navigation and an abundant amount of pages were also an essential part of the redesign as it allows The Montessori Academy to effortlessly communicate their philosophy and educational offerings. Their site also boasts a responsive mobile site for trouble-free parental access.
Apple Tree Learning Center
Apple Tree Learning Center is a licensed, level Three Paths to Quality ™ Preschool & Learning Center for Kids. They came to BANG! to enhance their site appearance and the ability to easily update information about their programs, curriculum and events. The result was a professionally designed site and the client has easy access to their user friendly admin. With access to their admin they can make changes to their pages, provide up to date announcements and with our event system they can effortlessly add events that automatically expire on the end date.
United Parent Council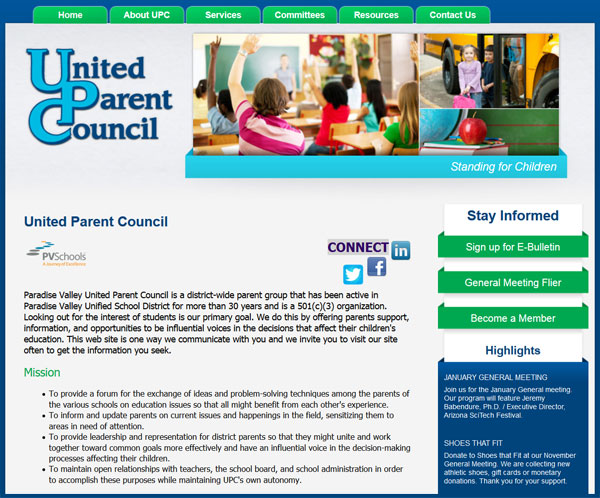 United Parent Council is a district-wide parent group that has been active in Paradise Valley Unified School District for more than 30 years. With a need for an updated look and the ability to provide a better resource for parents in their district, United Parent Council came to BANG! for a solution. We redesigned their site and provided easy navigation and access to their services and resources. Visitors can also access membership forms, their monthly newsletter and they can effortlessly reference educational links such as programs for gifted education, special education programs and services as well as contact information for the district administration.