Thank you for sharing this page with your friends.
Manufacturer Websites
As a manufacturer, your website is often the first point of contact for customers, and in some cases their only contact. With over 18 years of experience building websites for manufacturing companies in many industries, we've got the experience and team you need. See the examples below of how we've helped other manufacturers build a solid Web presence, showcasing their products and providing great support both pre and post sale.
Nelson Specialties Company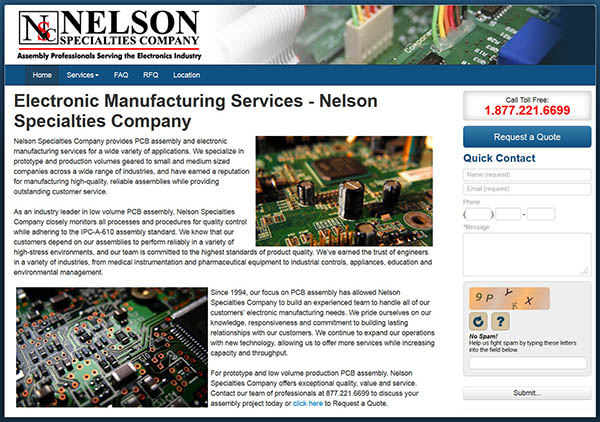 Nelson Specialties Company provides Electronic Manufacturing Services, PCB Assembly, and Electromechanical Assembly. They came to BANG! asking for both a redesign and SEO (Search Engine Optimization) services when their current Web design company couldn't provide site updates in a timely manner and had recurring issues delivering RFQ requests via e-mail. We quickly migrated their existing site to our servers and fixed the e-mail delivery problem. Then went to work on keyword research and a new clean design for the site. We also added our quick contact form to make it extremely easy for prospects to get in touch. We utilized RWD (Responsive Web Design) in building the site allowing mobile phones and tablets to get a mobile optimized experience when viewing the site.
Hoosier Spring Company, Inc.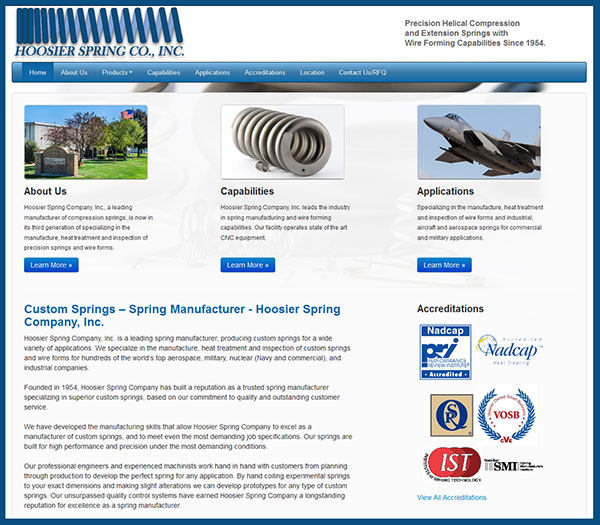 Hoosier Spring Company. chose BANG! to redesign their website and showcase their spring manufacturing capabilities. We once again utilized RWD (Responsive Web Design) while building their site allowing a mobile optimized experience for site visitors. They also took advantage of our photo gallery system to showcase their compression springs, as well as many other types of springs.
Madden Manufacturing, Inc.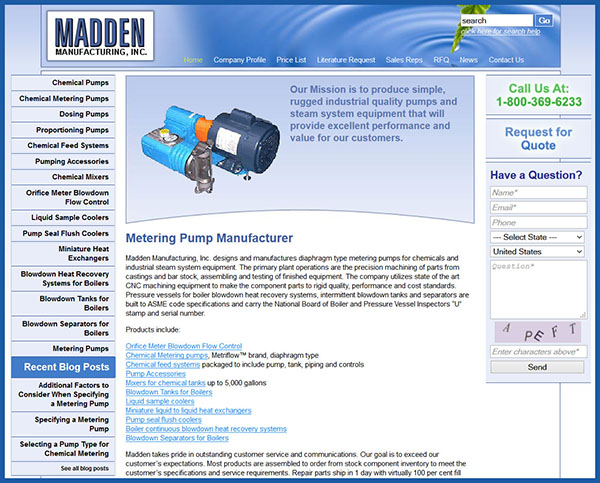 Madden Manufacturing is a metering pump manufacturer and has been a long term client of BANG!'s. Since they have such a large site we've utilized an advanced predictive search function on their site that expands on the users input to display likely search terms. We recently added our blog system to the site allowing Madden to share their years of pump experience with all of their customers. If you are in need of a chemical metering pump, you won't go wrong with a Madden pump.
Application Engineering, Inc.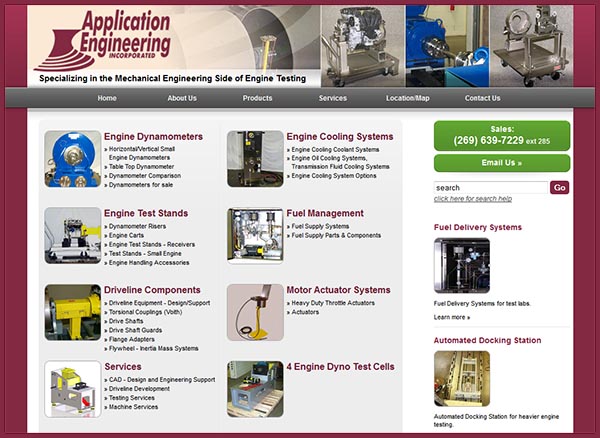 Application Engineering is an engine testing equipment manufacturer. They also sell and support testing equipment components including engine dynamometers, engine test stands, and 4 engine dyno test cells. Another long time BANG! client we updated their site with predictive search functions, and our latest CMS (Content Management System) which allows easy updates and changes to their website 24 hours a day through a password protected login.
Derby Industries, Inc.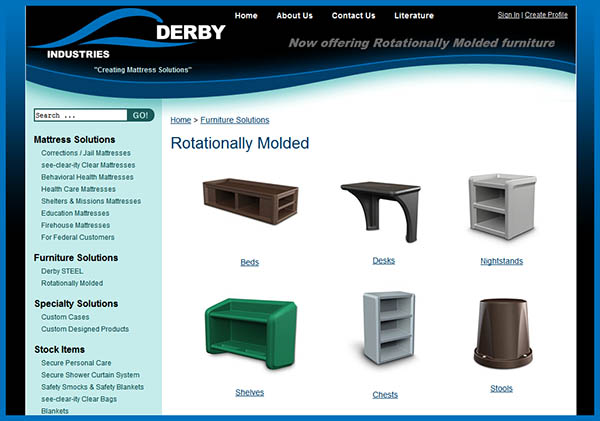 Derby Industries is BANG!'s oldest website design customer (since 1996!). Specializing in unique mattress solutions for jails, institutions as well as behavioral health and health care applications, their mattresses can stand up to puncture and tear attempts as well as being suitable for shelter and mission mattress applications. For Derby Industries we've provided SEO (Search Engine Optimization) solutions that have resulted in many 1st place rankings on Google. They've also taken advantage of our shopping cart solutions and allow many of their products to be purchased on-line.
Whether your manufacture in wood, metal or plastic, make teeny tiny parts or furniture sized pieces, BANG! will build a website for you that gets you found, educates your target customer, and even completes the sale. Contact Us today to learn more about our website designs for manufacturers.