Thank you for sharing this page with your friends.
Catering Websites
Caterers need a sophisticated Web and Mobile presence that showcases their cuisine as well as their services and event expertise. Encouraging site visitors through visual media that displays the catering fare encourages visitors to make contact. Below you'll find examples of Web sites built by BANG! that exemplify this criteria.
Cater Phoenix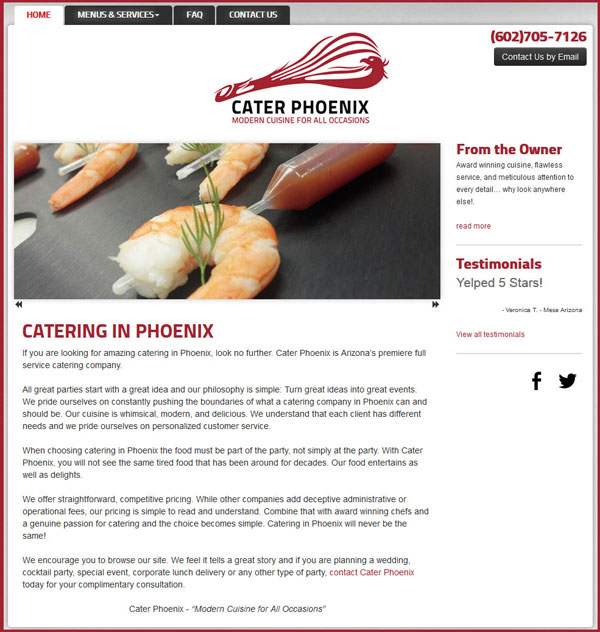 Catering by Cater Phoenix offers premiere full service catering. With an underperforming DIY site they came to BANG! for professional results for their website. We redesigned their site to showcase their amazing cuisine and catering services to prospective clients. We also gave the client full control over the admin area of their site which allows them to add new menu's and amazing photos of his cuisine that make you hunger for more!

The sites search rankings also have resulted in the phone ringing off the hook for their catering services as we also optimized their site for search engine optimization (SEO) resulting in a lead generation machine!
Landing Catering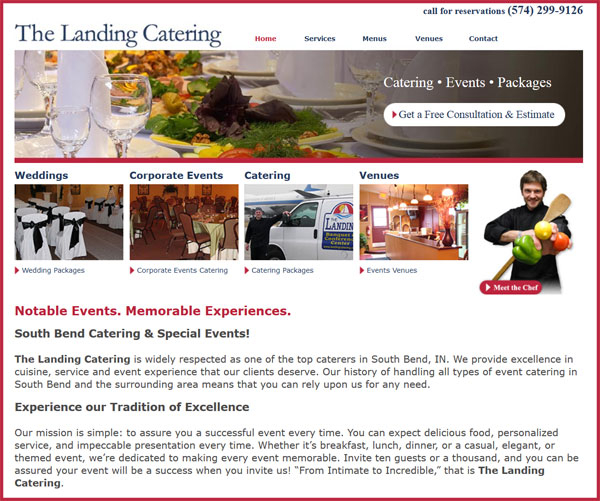 Landing Catering came to BANG! for a website redesign. A family owned business their catering services include Weddings, Corporate Events and Theme Parties. They came to BANG! for an image that portrays the elegant fare that they offer as well, they were looking for a way easily showcase their images using visual representation. We incorporated our Photo Gallery which is a user friendly module that allows Landing Catering to organize and add endless images of their catering venues and events. Our redesign not only captured the style that they sought it also provides visitors insight about the Chef, their services as well as their menus.