Thank you for sharing this page with your friends.
WordPress Alternatives - ND Band Case Study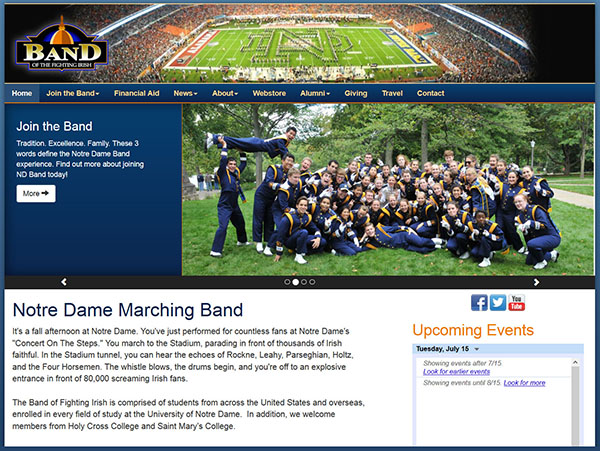 Frustration > Hope > Excitement > Success!
Justin McManus, Assistant Band Director from The University of Notre Dame Bands (www.NDband.com) contacted us about redesigning their WordPress site. They were frustrated with how difficult it was to manage the site and they wanted their site to be mobile friendly for their students. They also had additional keyword phrases they wanted to rank for.
Our solution: Keyword research which is a proven success formula for high rankings, a Responsive Web Design and our latest CMS (Content Management System) which allows Justin the power to easily update and add pages as well as add slides to the slideshow on their homepage to showcase the Band of the Fighting Irish.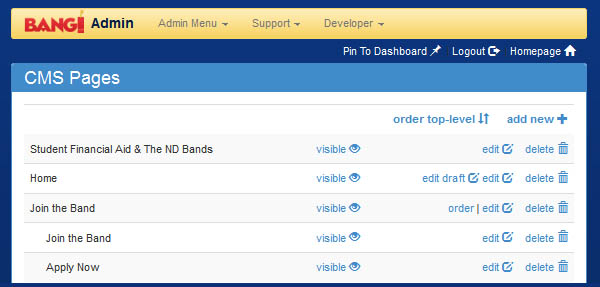 Results: A post go live training session that wowed! When questions were asked as to whether or not certain functions could be done in their admin we quickly responded with "Yes", and "Easily". After their past frustrations, I think they were blown away with just how easy it was to make updates to their new site.
In Justin's own words...
"It was great working with BANG!, and I know the staff are thrilled with the results. We're very excited to have a fresh, exciting website to move our program forward."
Thanks for "tooting our horn" ND Bands! The music is much sweeter when you play it. We look forward to moving your program forward for years to come.
Are you ready for an alternative to WordPress that won't leave you frustrated? Contact BANG! for a CMS (Content Management System) guaranteed to bring music to your ears.