Thank you for sharing this page with your friends.
Websites for Property Managers - A Case Study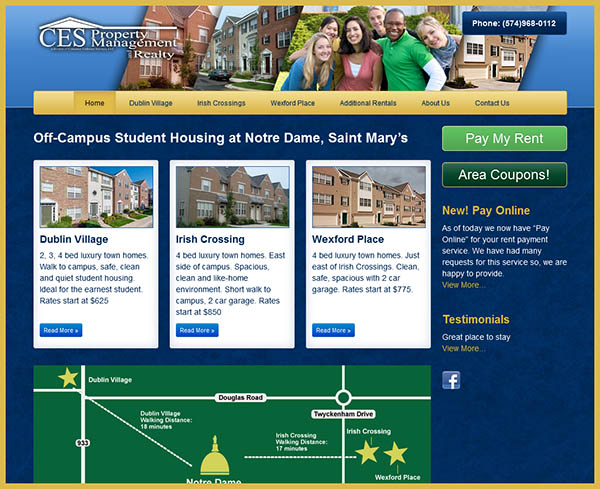 Website Overhaul Results in Home Run for CES Property Management
CES Property Management (www.CESpm.info) came to BANG! with an older site ready for a new look and they were eager for a mobile optimized site to reach their target customer...Notre Dame Students. Their ROI (Return on Investment) was nearly immediate!
CES's previous site was older and it worked for their property management business for a while however it steadily lost page rankings to the point that they went from first page ranking to anywhere from page 10 and beyond. It also was time for a fresh look using new technology including the ability for site visitors using mobile devices to have a great experience.
Our solution: For their site, we used a Responsive Web Design technique that optimizes the site for viewing based on the site visitors screen resolution. This allows the primary target visitors, Notre Dame Students, to have an optimal experience on their iPhones (75% of the mobile visitors are using iPhones). We also used our CMS (Content Management System) which allows Henry the ability to easily update their off-campus student housing listings and his clients have the ability to pay online.
Results: The client saw results quickly in their search rankings and had outstanding success renting out properties within months of the new site going live. He quickly received a return on his investment.
In Henry's own words...
"As it happens with many small businesses, we came to the conclusion that our website was in need of an overhaul. Since 2005, our business has grown consistently, yet in the last 3 years we started experiencing some challenges in reaching our niche market. I had designed our original website and while simple and functional, it certainly was a testament to my limited time and knowledge! It worked for a while, but with the changes in site rankings requirements we saw our page ranking go from the first page to anywhere from 10 and beyond. With the help of BANG! Website Design and a reasonable budget, in a short three to four months we saw our site go to the front and the first page in the rankings. The results for our business have been phenomenal and put us a year ahead in our business plan. Way to go BANG!... you hit a home run for us."