Thank you for sharing this page with your friends.
Websites for Manufacturers - A Case Study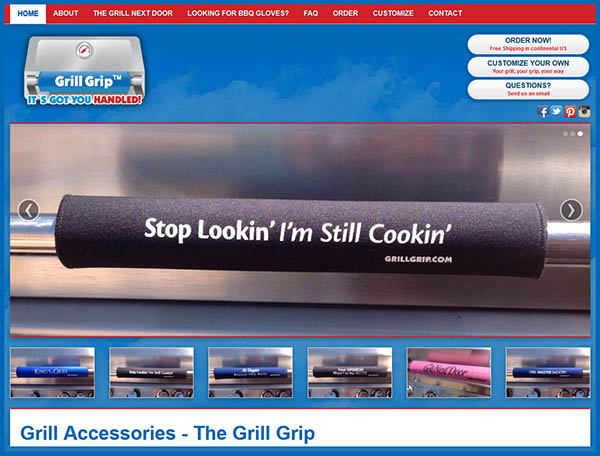 GrillGrip Received an Amazing Invitation from Amazon!
Third time's a charm! Patrick from GrillGrip (GrillGrip.com) went through two failed Web design attempts before coming to BANG! and achieving the image he was striving for as well as an effective E-commerce site. A short while after their site went live Amazon came by and said, "Hey can we start carrying your product?" What an amazing win for GrillGrip.com!
Unfortunate for Patrick as he had two very unsuccessful experiences hiring Web designers. Both of his first two attempts never achieved the image he was striving for, not to mention the E-commerce side of things never got off the ground at all.
Our solution: Patrick has a great product and it needed nice large photos so customers could see what the GrillGrip was all about. We delivered with a very large homepage slideshow that showcases several of their top selling products. Since his E-commerce needs were simple (not a lot of different products and straight forward shipping costs) we went with a simple order form based on-line ordering system which kept costs low and the site was up and running quickly.
Results: Patrick finally has a website that he is proud of, allows him to easily sell his products online, and with the unplanned visit from Amazon a few months after his site went live, the GrillGrip's future certainly looks bright!
In Patrick's own words...
"Grill Grip is proud to announce that we are now available on Amazon. Check us out at www.amazon.com/shops/grillgrip. I just wanted to take the time to thank all of you for the awesome website that you created for Grill Grip. Without the great website it would not have been possible for the many opportunities that have come across our grill. I started out wanting a strong website after two failed attempts by other website developers and you guys delivered. It was your website that brought Amazon to my grill step. They contacted me by coming across the Grill Grip website and even refused a sample Grill Grip as they were so impressed by the slide show presentation and overall website design that a "real" sample was not necessary."
As a manufacturer, you want your website to build your own success story. Contact BANG! to get started.