Thank you for sharing this page with your friends.
B2B Website Design Case Study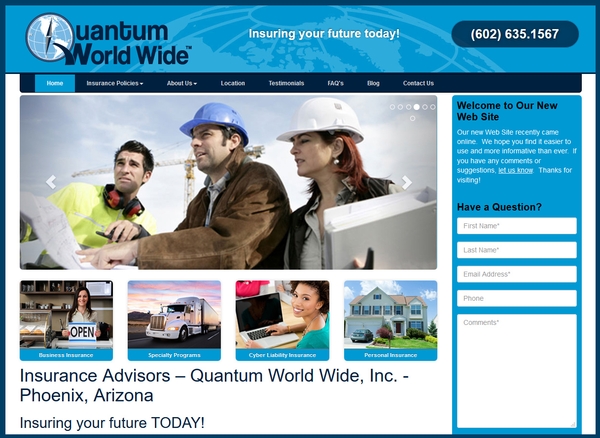 Website redesign resulted in immediate results for Insurance Agency
Quantum World Wide, a Phoenix Commercial Insurance Agency, asked our opinion about their existing website. After reviewing the site and pointing out many missed opportunities to not only rank better but to convert site visitors they moved forward with a redesign of their site, the result shown above.
We structured the site based on the way businesses in the Phoenix area searched for insurance. Our tools allow us to query Google and ask how many people search using this keyword phrase in Maricopa County? Google responds with not only the answer, but alternative phrases as well that actually may be searched more frequently. Armed with this data, we build the site to be found for the keyword phrases your prospective customers actually use. This results in more opportunities for your website to rank well, generate traffic, and convert site visitors into paying customers. Isn't that why you wanted a website to begin with.
For Quantum World Wide the site redesign resulted in an immediate request for quote on a new policy.
Quantum World Wide President, Lou Pingtella had this to say once the new site went live...
"We had an outdated website for our Independent Insurance Agency. I met with Brian (owner) and he immediately saw that we weren't mapped properly, it wasn't mobile device friendly along with a host of other items. Bottom line was we had very good content but the search engines weren't picking it up. We needed do an overhaul if we wanted results, especially in the highly competitive field of Insurance Agencies.
Initially Brian did an SEO Search to find the best words/phrases to use in order to optimize being seen by the search engines. He did a great deal of research and made awesome suggestions!

Throughout the project, we were assigned a "Project Engineer" who was extremely informative, knowledgeable and had weekly meetings to make sure we were on target and to complete a checklist of items to do and completed. Chad was extremely helpful throughout the process. Extremely professional and always willing to give us great advice.

As our website was going through a transformation, we had access to make certain it was what we wanted and the content was correct. Although we primarily used our existing content and we added some new content, BANG! provided us with suggestions and ideas to help us make our web site stand out. BANG! was ALWAYS willing to listen to us and make changes or corrections that we felt were best for us. Ultimately they provided sound advice but listened to us so we could have the best web site!

Our web site is now up and we must say that it is SPECTACULAR! The site is very modern, easy to navigate, user and mobile devise friendly and more than we could ever want. The amazing part is during the first week our site went live, we actually had a prospect contact us. This is the first time in more than 3 years of having our old site! WOW! Impressive!

We are in the training stage as they are showing us how we can do some of the changes ourselves (cost savings) as things change. It is easy to navigate and their training is outstanding. We are excited to continue to see the results of our new site and Brian assured us that we will be on the first page of the searches and hopefully #1 - #3.

I must say that BANG! Web Site Design delivers on their promises and then some. The old adage, you get what you pay for is relevant in our case. If you don't believe me, check out our site QuantumWorldWide.com. You will see what a thorough and professional job that they did.

BANG! Web Site Design's slogan is "Websites with Impact Measurable Results Guaranteed". I am confident that we will have results and I HIGHLY, STRONGLY AND UNEQUIVOCALLY RECOMMEND BANG! You can't find anyone in this field that is more qualified and professional than my friends at BANG!

Thank you Brian, Chad and all your team for all of your help, support and awesome web site for Quantum World Wide, Inc. We can't thank you and your team enough. I would call and hire BANG! in a heartbeat if you want the best site on the Internet! There is no better time than right now to call them. You won't be disappointed."
Lou we couldn't say it better ourselves. Call us today at 602-427-5626 or request a website design quote if you would like your website to provide a positive return on your investment!